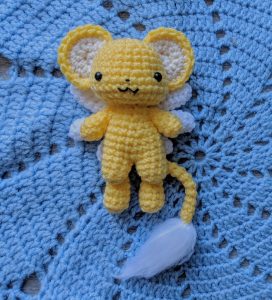 Kero is a character from the anime/manga Cardcaptor Sakura. It's a show that I remember fondly watching over a decade ago and I've binged the entire series all over again since its recent release on Netflix.
I wrote a Kero a couple years back (available HERE) but I've since developed some new crochet tricks and wanted to update the pattern. For Kero 2.0, I made his ears bigger and with the cream colour inside, I changed up the wings, and I designed the legs to make it look like he's flying.
Another goal of mine for this pattern was to make a tutorial video to accompany it. This is something that was brand new to me and provided many challenges to problem solve through. In order to get a good view of my hands crocheting, it was important to film it top down. The first step was creating some sort of rig that could hold my camera parallel to my desk, and using a broken selfie stick, a crate, and some yarn to bind it all together, I built this monstrosity: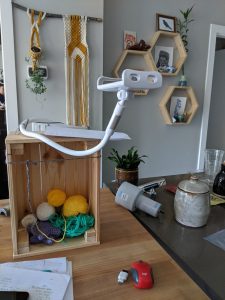 The filming of crocheting each piece wasn't too bad but I will be looking into good lighting sources for future videos.
The biggest source of learning (and mistakes) was editing the video and putting all the clips together. It was my first time using iMovie and I gave myself an evening crash course in stitching videos together cohesively with transitions, annotations, and music (thank goodness for royalty free music). Putting a 45 minute video together like this is a LOT of work and I now have a special appreciation for every YouTube content creator.
I present to you my first YouTube video tutorial for creating my new and improved Kero!
If you would like the written PDF pattern, it is available on my Etsy shop (LINK).
Below are the materials required:
Yarns – yellow (Y), cream (C), white (W), black (B)
polyester fibrefill
two 8.0 mm safety eyes
size 8 (5.0 mm) crochet hook [I use hooks from Laurel Hill]
yarn needle [I use the bent tip needles from Clover]
pet slicker/brush
My goal from here on out is to create video tutorials like this for any future pattern that I release. So subscribe to my YouTube channel, SirPurlGrey, for more content like this!