I recently dug up my copy of Pokemon Soul Silver while doing some autumn cleaning and I became obsessed with it all over again. The second generation of Pokemon games introduced two new types in Steel and Dark, the latter being my favourite type. The Dark-types, Murkrow and Umbreon are some of my most loved Pokemon to date.
When deciding which version to get, I gravitated to Pokemon Silver is because of how cool the box legendary, Lugia, looks. It's this monstrous, psychic bird with an awesome wing design and I loved the challenge of translating the design into amigurumi.
I will be splitting this pattern into two parts since it's such an involved design with a lot of different pieces to crochet. Part 1 will focus on the head and body, and Part 2 will guide you through the wings and feet, and tail.
The written PDF pattern with detailed instructions and stitch counts can be found in my Etsy shop HERE (https://www.etsy.com/ca/SirPurlGrey/listing/905361216/lugia-amigurumi-crochet-pattern).
MATERIALS
Worsted weight yarn – white (W), dark blue (D), light blue (B)
Crochet hook – size 8 (5.0 mm)
Other notions/tools – scissors, yarn needle, white glue, polyester fibrefill, two 8.0 mm safety eyes
Felt – dark blue, white
ABBREVIATIONS
ch = chain
st = stitch
sc = single crochet
sl st = slip stitch
inc = single crochet 2 into the same stitch
dec = decrease over next two stitches (single crochet 2 stitches together or use invisible decrease)
PART 1 – HEAD POINT, HEAD, BODY
Here is the video tutorial for Part 1 of Lugia.
TEMPLATES FOR THE EYES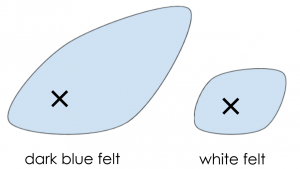 Pierce holes in the spots marked with an "×" and insert the safety eye through the white felt and then the dark blue felt.
PART 2 – WINGS, FEET, TAIL, SPIKES
Here is the video tutorial for Part 2 of Lugia.