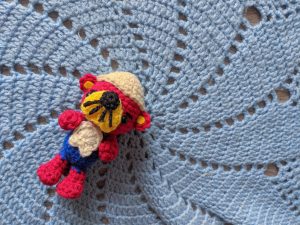 It should not be a surprise to you that Animal Crossing is one of my favourite video games. One of the summer updates to the game was the addition of being able to dive and swim through the waters around your island. You can find and scoop up sea critters as you swim but if you find a scallop, you may be visited by a sea otter named Pascal. He will trade your scallop for a DIY recipe or a precious pearl, and then happily swim away on his back munching on his newly acquired scallop. He'll always impart some wisdom with a curious quote before he leaves. One of my favourite quotes from him is:
"If you can't get your jam out of the jar, does that mean you're in a jammed-jam jam?"
Pascal's design is simple and cute and I couldn't avoid crocheting him. I created a video tutorial which can be found below or on my YouTube channel, SirPurlGrey.
If you would like the written PDF pattern, it is available on my Etsy shop (LINK).
Below are the materials required:
Yarns – red (R), yellow (Y), cream (C), blue (B), dark brown (D), black (BL)
polyester fibrefill
two 8.0 mm safety eyes
size 8 (5.0 mm) crochet hook [I use hooks from Laurel Hill]
yarn needle [I use the bent tip needles from Clover]
yellow felt
white tacky glue